TURKEY / BAKUR – Turkish policemen filmed the scene where they tortured and sexually assaulted Emir Cura, a young Kurdish man arrested in Amed (Diyarbakir). These horrors are delivered to us via social medias at a time when the world is outraged by the racist murder of George Floyd, a black American, by a racist policeman and when Turkish officials, including President Erdogan, condemn American state racism.
Emir Cura, the ideal culprit
The Turkish policeman, Atakan Arslan was killed in the Bağlar neighbourhood of Amed a few days ago. Since then, several young Kurds, including Muhammet Emir Cura, have been arrested by the Turkish police.
Cura is accused of having killed a policeman in Amed and he undergoes these barbaric acts to make him take the crime, even if the Turkish policemen knew that he is innocent, they will do everything to charge him because in the end he is a Kurd and all Kurds deserve the worst in Turkey, if they do not accept forced assimilation and do not become Turks.
Torture and rape legitimized by Turkish public figures
With the dissemination of Cura's torture images on social networks, there has been a flood of tweets from Turkish fascists, but also from Turkish public figures, praising torture and rape.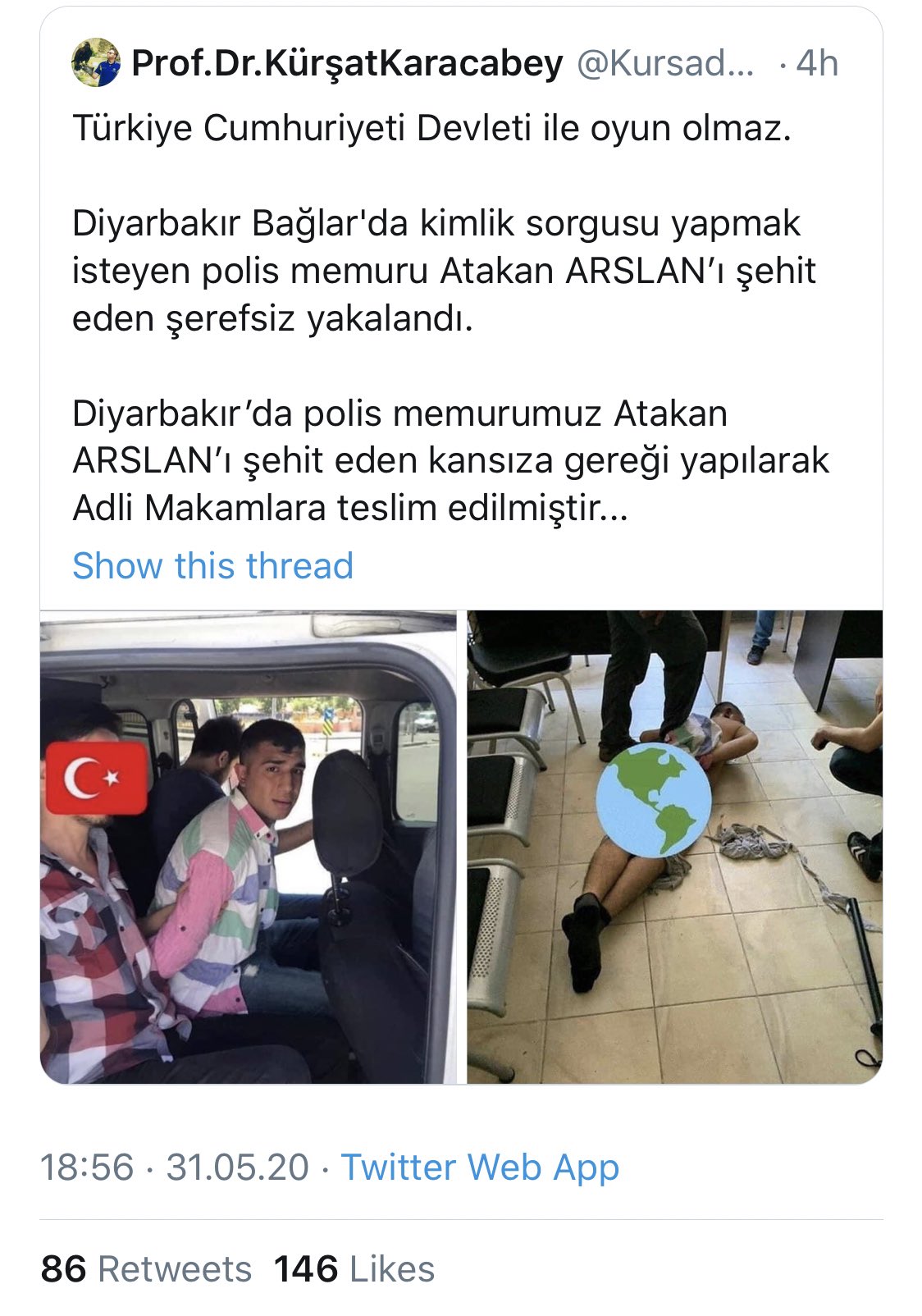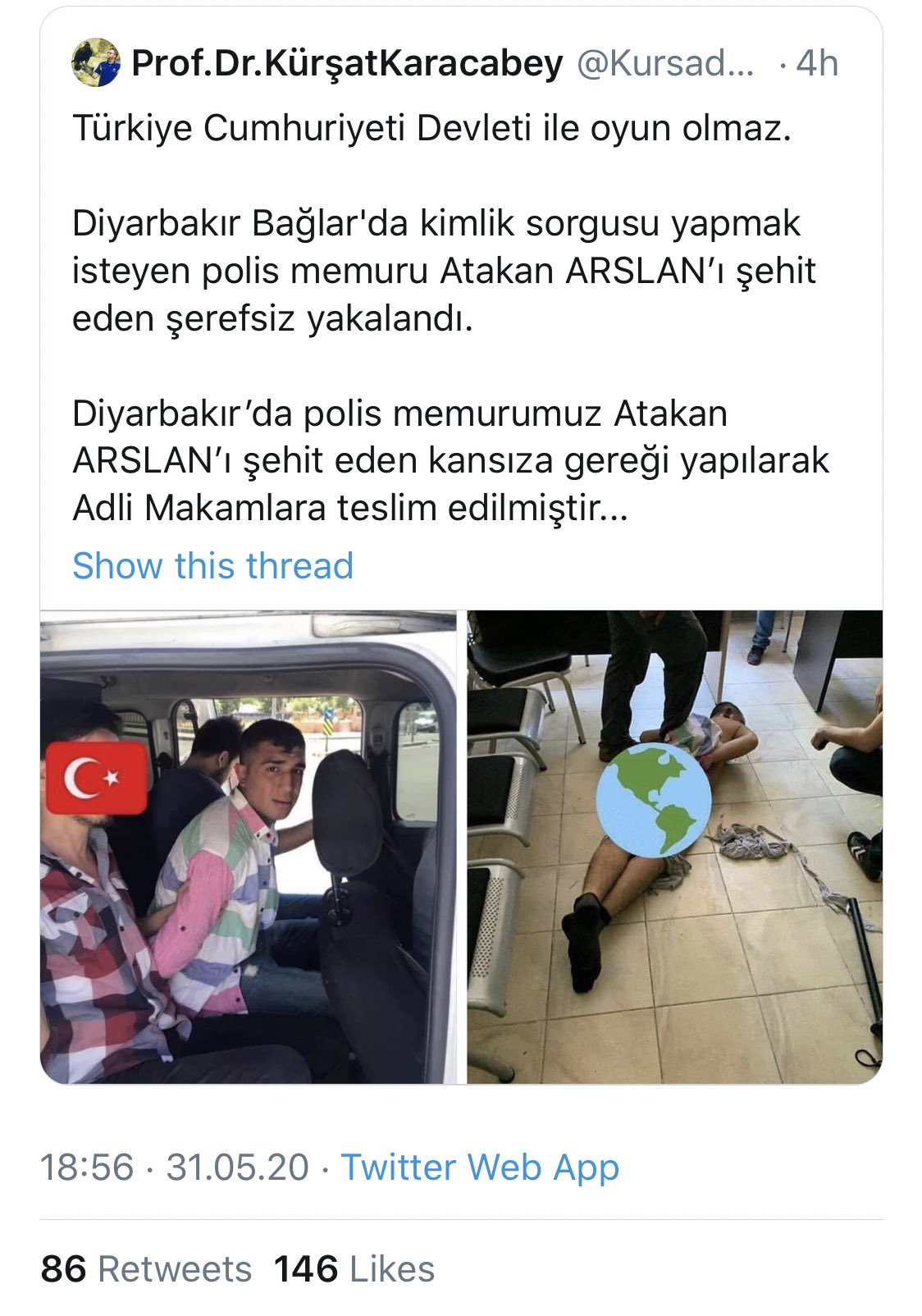 Emre Soylu who shared the following tweet is an advisor to a member of the fascist party MHP. He praised the crime of which this young Kurd is a victim… declaring that « The dog that (killed) our valiant policeman Atakan Arslan, the traitor Emir Cura is in the compassionate arms of the Diyarbakir police station. » Since then, Soylu has deactivated his account…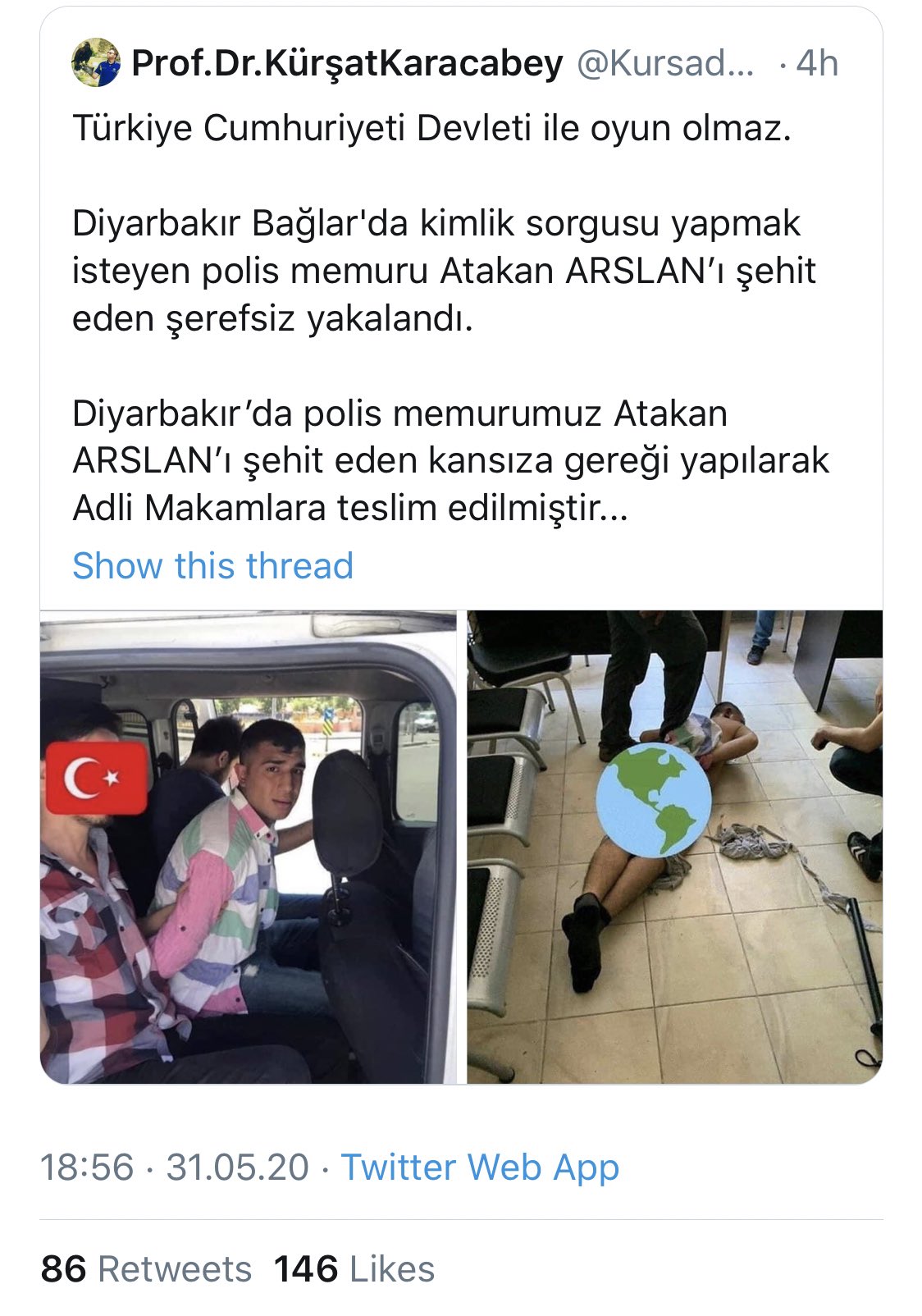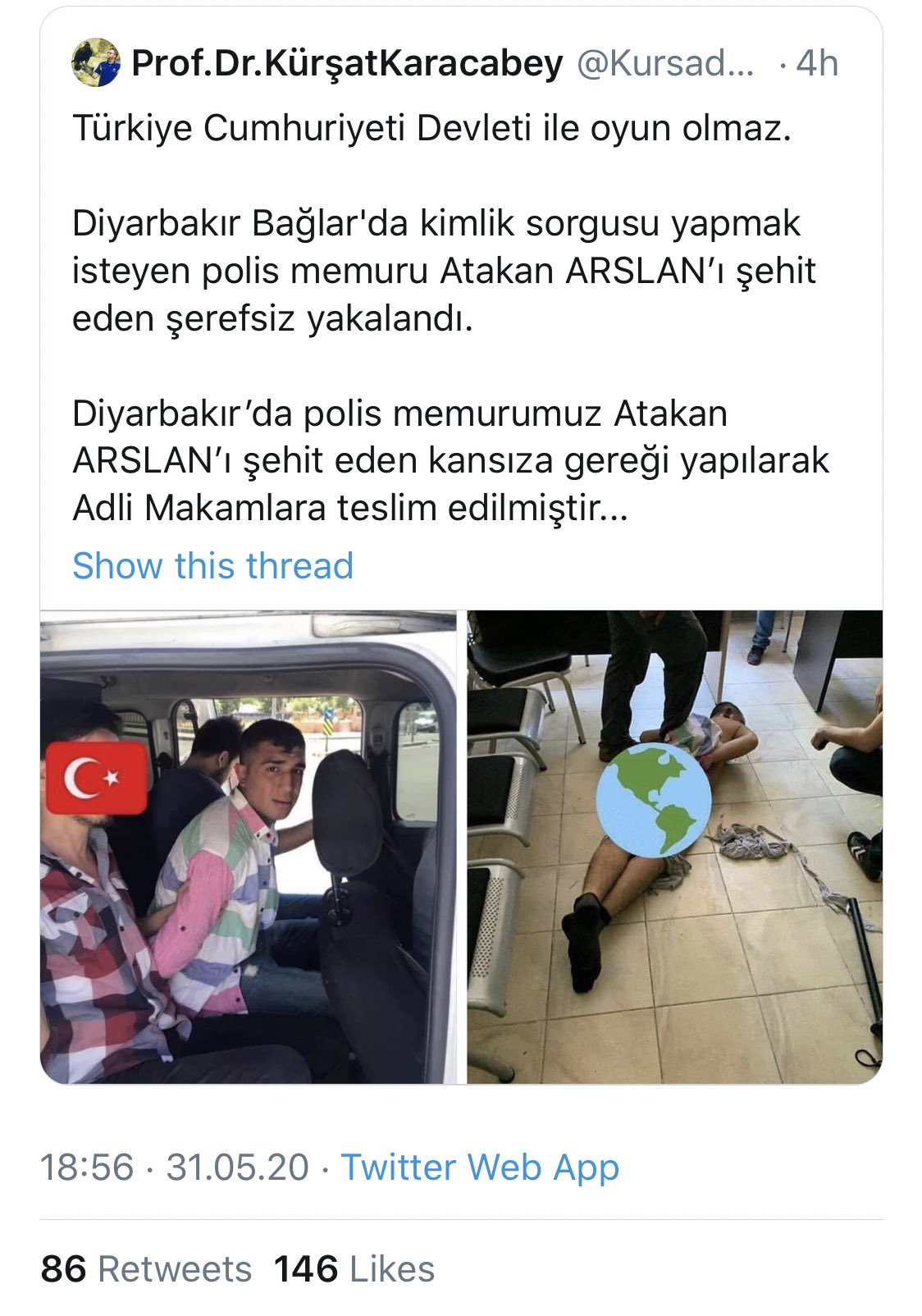 Kürşat Karacabey, a Turkish academic, shared these same images on his Twitter account, stating that « everything necessary had been done » against Emir Cura, whom he accused of killing the Turkish policeman.
The Turkish fachos have also posted a video of a man and others moaning and shouting « konuş » (speaks) and allegedly taken during Cura's torture. It shows the same tile on which Jura is lying naked, with a policeman's foot on his back…
Kurds are victims of state racism
In Turkey and in the Kurdish regions of the Bakur under Turkish occupation, the Turkish state has discriminated against Kurds on the basis of their ethnic identity and has pursued a policy of forced assimilation since the creation of the Turkish state at the beginning of the 20th century. This policy of assimilation involves a ban on speaking Kurdish, deportations of Kurds to other regions of Turkey and the settlement of Turks in the Kurdish regions in order to change the dermography of these regions by dekurdifying it. In addition to these methods of assimilation, which some describe as « soft », the Turkish state does not hesitate to resort to massacres of Kurdish civilians, as we have seen in Dersim, Zilan, Marash, Roboski, Cizre, Sur, Nusaybin… over the decades. When the Turkish state understood that it could not physically annihilate tens of millions of Kurds, it decided that it would annihilate them by destroying their language, their culture, their natural wealth, their history as we saw in Hasankeyf with the Ilisu dam which wiped out 12,000 years of human history by engulfing the ancient city of Hasankeyf. Otherwise, just last night, Barış Çakan, a 20-year-old Kurdish boy, was killed in Ankara for listening to Kurdish music on his balcony.
A genocidal state, member of NATO, and allied with the West
The Kurds regularly denounce the West's complicity in the genocide of the Kurds by Turkey. Indeed, Europe and the United States, Western institutions such as the UN and UNESCO, as well as NATO are Turkey's allies. They actively support Turkey in its anti-Kurdish war by selling it arms and turning a blind eye to these crimes and genocides against the Kurds instead of at least trying Turkey at the Criminal Court in The Hague or expelling it from NATO. The Kurds being colonized and deprived of a sovereign state, they have no weight on the world chessboard, no matter if they defeated the Islamists of DAECH / ISIS in Syria and their bravery is praised throughout the world. They are the sacrifices of history and have no friends other than their mountains, which Iran and Turkey are ransacking with gunshots or bombings…